Legacy Circle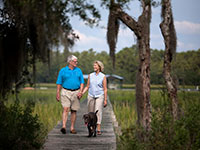 An Invitation to Join the Legacy Circle
Become a member of the Legacy Circle by informing us if you have included the Roper St. Francis Foundation in your estate plans.
The Legacy Circle was established to recognize our generous and visionary friends who have included the Roper St. Francis Foundation as the beneficiary of a planned gift such as a bequest, appreciated securities, gifts of real estate, gifts of life insurance and/or charitable income gifts, such as charitable gift annuities, charitable remainder unitrusts, or charitable remainder annuity trusts.
We hope you will contact us to begin the conversation about planning your legacy at Roper St. Francis Healthcare. To join the Legacy Circle, please fill out our member profile form or download our form and mail it to the Foundation office.
Membership Benefits
Recognition, with your permission, in Legacy Circle member listings.
Invitation to an annual event honoring Legacy Circle members.
Invitation to a behind-the-scenes Signature Series event for leadership circle donors.
Confidence that only comes with knowing you are investing in the future of Roper St. Francis and making a significant difference in the future health of the Lowcountry.